Dehydrated Native American Storage Foods



Storage foods on display include Miami White corn, Delaware Blue corn, Longfellow Northern Flint corn, King Philip Northern Flint corn, squash rings and braids, Jerusalem artichokes, few varieties of Native beans, wild rice, maple sugar in granulated, caked, and candied forms, sassafras root bark, ground cherries, lamb's quarters (greens), nuts (including chestnuts, acorns, hickory nuts, and walnuts), wild garlic/onions, cranberries, blueberries, strawberries, raspberries, elderberries, blackberries and blackberry patties, fish, mussels, buffalo and deer meat.

With the storage foods we also display foods ready to be hydrated and cooked into specific dishes including, hominy, dry corn soup, wild rice with blueberries, and buffalo meat in oil. Also displayed are flours ready to be made into breads including Miami White corn flour and parched corn flour.

We also display 'snack' foods such as parched corn, cracked parched corn with berries and maple sugar, and pounded, powdered dried meat.

Our foods and dishes are well researched, with information from resources such as historic recordings/captive narratives, archeological data/site reports, and ethnologies of several Northeastern tribes.
Food Processing & Cooking
Food processing usually includes (based on season) drying squash rings, drying meat, maple sugar making, etc. We always bring mortars and pestles for grinding corn into meal, and the public is welcomed to help grind the corn and sift the meal with sifting baskets. We also cook and prepare dishes such as hominy, hickory nut pudding, baked squash or squash pudding, and corn bread baked in corn husk. Hot stone cooking includes hot-stone boiling demonstrations (extra fee) and roasting meat and produce on hot stones (very popular is our cooking of fish and mussels on hot stones). Visitors are welcomed to have a taste of certain foods (based on the event's wishes).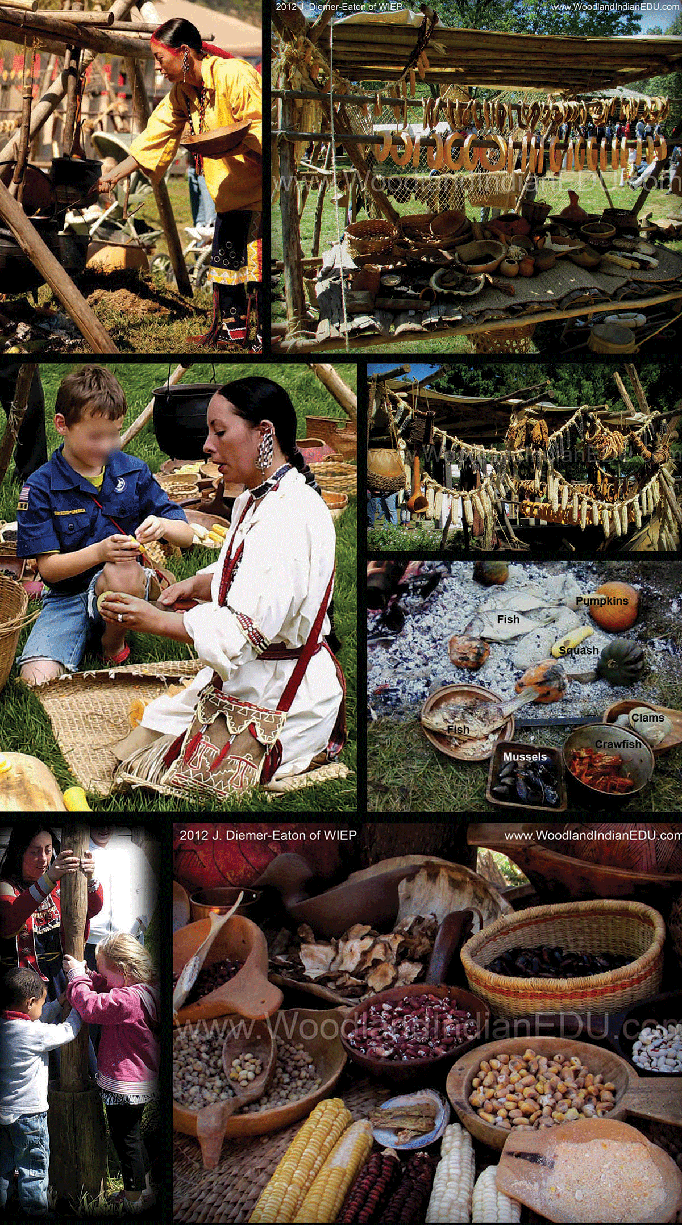 Upper left photo by Jen Badr - posted with permission.
The Native Foodways Program
is an on-going presentation and demonstration. The only demonstration that should be scheduled is hot stone boiling, which can be scheduled 2-3 times a day (extra fee applied for hot stone boiling demo). The price of the base program is $350 per day with out full
camp
set-up, or $475 the first day, and $425 for day 2, 3, 4+ with the full camp (including a-frame/lean-to structure and shade shelter), plus travel and hotel fare. Questions should be addressed to Jessica Diemer-Eaton at events@woodlandindianedu.com
We also offer historical parks/museums, agricultural educational sites, and maple syrup producers with interpretive public programs and festivals our
Native Maple Sugaring Program
. Click here to view some photos of this program.
While we demonstrate traditional and historic methods of cooking and food preservation for the general public, we also live our daily lives with growing, gathering, and processing many of these same foods for home use. For example, we may demonstrate traditional Native style maple sugaring, but we also produce enough maple syrup for our family every year. We consider our lifestyle of part-time gardening, gathering, and hunting to be beneficial in our understanding of traditional foods. After all, when we are not at work teaching about these foods, we are at home producing and consuming them. Click here to view some pictures of our garden foods, wild foods, home made maple syrup, etc.


Absolutely No Copying Photos or Images on This Site.
Do Not Reproduce and Sell Any Images On This Website.
Do Not Copy and Post WIEP Photos or Illustrations On Any Blogs or Websites Without Permissions.
The Photos That Appear on This Site are Our Property or Used Specifically With Special Permissions ONLY for Our Site;
Permissions of the Photographers of the Photos, and/or the Event's Permissions at Which They Were Taken, and/or Those Who Appear in the Photos.
We Have No Authority to Extend Their Permissions To Others.


Web Hosting powered by Network Solutions®